Mar
8
The details are rolling in for the Spring 2017 Gathering (here's a flyer). First, let's talk about the Sat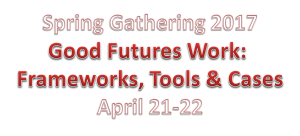 urday conference. I am very excited to announce that Christian Crews & Laura Schlehuber of Kalypso Foresight are going to take us through their Systems Scenarios approach. I have wanted to see this for years….finally! In the afternoon, we have a  session with Dave Bengston of the US Forest Service, who we have been working with for the last year on horizon scanning and scenarios. He's going to lead us through an exercise using Joel Barker's Implications Wheel — very cool if you haven't played with that, (and very cool if you have)! The rest of the afternoon will be a series of shorter pieces feature excellent work on tools, methods, projects from students, alums, and faculty  – a potpourri of good futures work. The very rough agenda at present is below (we still have a few afternoon slots open)
9:00-12:00 Working with Systems Scenarios, Christian Crews & Laura Schlehuber, Kalypso Foresight
12-1:00 Lunch
1:00-2:00 Dave Bengston, US Forest Service,  Implications Wheel Exercise
2:00-5:00 Mini-Cases (15 to 30 minute sessions) Topics & speakers so far include (slots still open):
Sean Daken, Foresight & Entrepreneurship; Eric Kingbsury, Foresight Games; Oliver Markley, Intuition in Foresight; Bo Roe, Scanning Source ID; Mark Sackler,  Futures Podcasts; Lee Shupp, Foresight student work; Jason, Swanson of Knowledge Works…..
The full Friday and Saturday schedules are mapped out below.
Friday April 21
Dinner    Goode's Tacqueria   5pm
(4902 Kirby Drive; 713.520.9153) (link)
Drinks, hookah, chat  TBD      7pm-???
Saturday April 22
"Good Futures Work "   UH Cameron Building   (link ) 8:30-5
Dinner & Pool Party  The Hines home   directions    5:30-??
Where to stay:  UH Hilton (link)
We look forward to seeing you. Please drop me an RSVP so we can make sure we have enough space and food for everyone (ahines@uh.edu). — Andy
Save
Save
Save