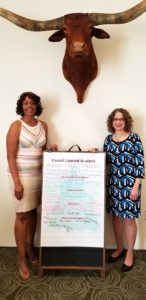 Moving towards greater collaboration between the Houston Foresight program and Center for Houston's Future (CHF), Masters graduate alum Kimberly Daniels facilitated an afternoon foresight exercise on May 31, 2019 for CHF's pilot program of introducing emerging leaders to civic involvement around key issues and challenges impacting the Houston region. Partnering with the Houston branch of Sidley Austin LLP, one of the largest corporate law firms in the U.S., CHF organized a learning journey around Houston's bayous and flooding situations for law students participating in the law firm's summer associate program.
Kevin Lewis, a Sidley Austin partner in Houston, shared that the firm has a long tradition of civic involvement, wherever its associates work, and Houston is no exception. He cares about Houston, he believes it's a good place to live, and he wants the firm's clients and others to care about the city as well. For Kevin, partnering with CHF for this "mini think tank" summer experience makes sense, as "CHF is committed to grappling with problems such as flooding." For Brett Pearlman, CEO of CHF, working with Sidley Austin, the City of Houston's Mayor's Office and others in shaping Houston as a resilient city, especially following Hurricane Harvey in August 2017, is an opportunity to move toward a transformational vision for the Houston region that starts with thinking about the future.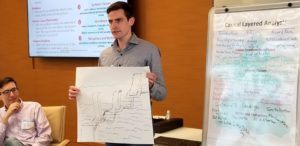 The afternoon foresight exercise in May with CHF and Sidley Austin involved the use of Casual Layered Analysis (CLA) and the CLA iceberg to explore varied perspectives around flooding in Houston by identifying four layers of causality — the litany (problems and headlines), systemic drivers (social, technological, economic, environmental and political), worldviews, and myths and metaphors. Kimberly, with assistance from CHF staff persons Laura Goldberg, a Houston Foresight Certificate alum, and Betsy Breier, guided the entire group of participants down the CLA iceberg of causality. Considering historical and recent flooding events, past and current contexts concerning Houston's bayous and waterways in addition to the city's growth and development, trends, projections and other information presented by morning speakers and panel experts, the group then articulated a baseline scenario of how the long-term future could unfold if marked by continuation.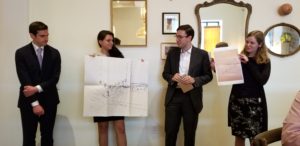 Following the group activity of going down the CLA iceberg and determining a baseline future, the law students then worked in small table groups to go back up the iceberg in reverse order to identify new myths and metaphors, new worldviews, new systemic drivers and relationships, and new litanies and headlines indicative of a transformative future image. Using colored markers, the table groups then created visual representations of their transformational scenarios and shared five-minute presentations on ways in which the city of Houston could respond to flooding.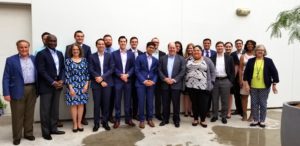 Coming together again on Friday, June 27, 2019 for a Capstone Luncheon and for the conclusion of their learning journey, the three groups of law students presented more robust transformational scenarios of Houston's future and recommendations for addressing flooding that were inspired by tours of bayous around the city and of downtown Houston. In essence, the feedback they received from Christof Spieler, with Greater Houston Flood Mitigation Consortium, and Marissa Aho, City of Houston Chief Resilience Officer, was that no singular recommendation will transform Houston's flooding situation for the better. However, combining the recommendations from these emerging leaders, along with a number of other strategies, for a systemic approach to flooding and resiliency, including new policies and policy changes, could make a difference in how Houston's future unfolds. By Kimberly "Kay" Daniels