Wendy Schultz is futurist at Infinite Futures and former professor of Foresight at UH. She was a guest lecturer in the Intro to Foresight class this week where she presented on images of the future. Wendy cited the foundational text, The Image of the Future by Fred Polak as key influence for understanding the role images play in understanding and creating the future.
An image, as Wendy explained, is not necessarily just a visual representation. Images can be narratives, songs, poems, artifacts, dances, gestures or other methods of storytelling as well. These images are a part of our interior landscape and often actively inform our world-views and expectations.
Images of the future, or images that sell their audience a certain vision for future are everywhere. We find them in advertising, science fiction, fashion editorials, design renderings, mythologies, religion, political agendas and even our own dreams.
Wendys presentation included various images across multiple mediums which depicted 5-7 generic archetypes of how the future might play out. These archetypes, or reoccurring stories about the future that Wendy sees all the time are outlined in the following table.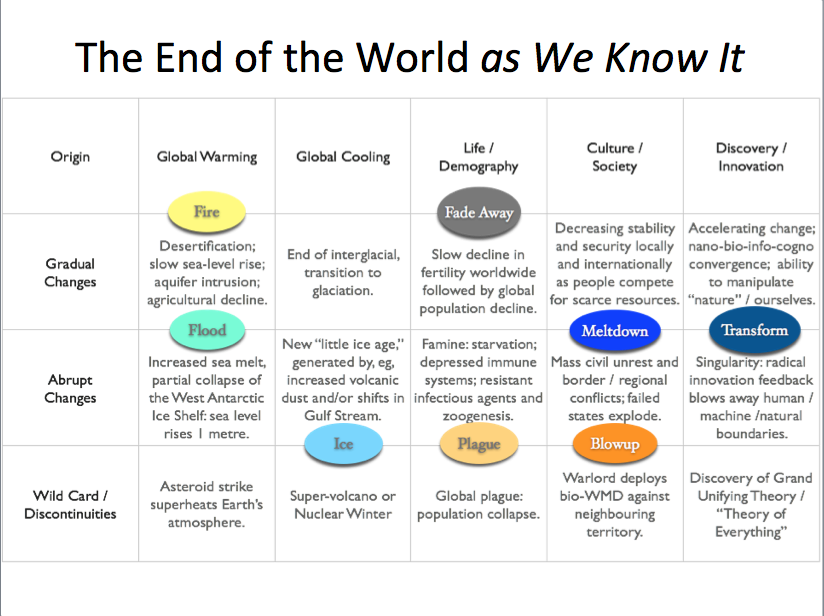 Wendy went on to talk about differing images of the future across cultures, specifically about differences between European and American guiding images. She concluded with touching on her concern with the lack of a uniting universal image and rise of fundamentalist images across the world.
Professor Andy Hines also shared some thoughts on Wendy's lecture on his blog, where he adds references to methodologies and frameworks suggested by Wendy for analyzing images of the future.
Attached below are a few of the lush images of the future Wendy curated in her presentation. Can you match these images to the archetypes/scenarios outlined in table above?