Nov
19
On my bookshelf, surrounded by scores of futures books, is a 1949 volume published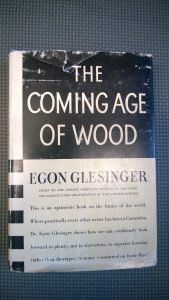 by Simon and Schuster and authored by Egon Glesinger. The book is titled The Coming Age of Wood. Glesinger was Chief of the Forest Products Branch of the Food and Agriculture Organization of the United Nations, and was decades ahead of his time. Most people think of wood as an archaic and low-tech material. But in 1949, Mr. Glesinger foresaw the "revolutionary role it would play in our future."
Indicators of the coming age of wood can be found in the Forest Futures horizon scanning database, which includes links to many articles about significant innovations in wood products that could be game changers for forestry and forest products. Examples include:
These and other innovations suggest that a revolution in wood products is getting underway. A recent report from Dovetail Partners characterized this as "The Once and Future Bioeconomy." Several wood products experts and the United Nations Economic Commission for Europe have declared that the 21st century could be the "century of wood."
Implications of the coming age of wood could include:
Increased demand for wood, increased tree planting to meet the demand, and resulting increased absorption of atmospheric carbon dioxide;
Development of markets for wood currently lacking market value, thinning of overgrown forests with high fuel loads to supply the markets, resulting in decreased wildfire risk.
Architect Anthony Thistleton has observed that "The 20th Century was the concrete age, it was all about the dominion of [humans] over nature." If Egon Glesinger is right, the concrete age could be yielding to the "Coming Age of Wood" in which an ancient and renewable material takes center stage. — Dave Bengston