Sep
22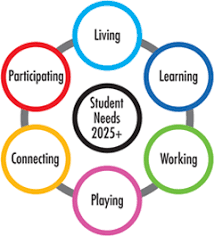 Houston Foresight advances its endeavor to produce high-quality foresight work that helps businesses, governments, institutions and even students anticipate and prepare for the future by publishing 11 out of 13 articles featured in On the Horizon's 2017 special issue: Student needs 2025 and beyond. Production of this collaborative work by UH faculty, students and alumni on behalf of Lumina Foundation points to emerging student needs with respect to a student's life as a whole and the innovative responses required to address them.
The articles contributed by Houston Foresighters to this On the Horizon special issue are:
"Why student needs" – by Andy Hines (UH faculty) and Juan Suarez (Lumina Foundation project sponsor), pp. 141-144 — highlights three ways in which the study on student needs took a unique view of higher education, centered around a theme of focusing on student as opposed to institutional needs.
"Framework foresight for exploring emerging student needs" – Andy Hines, pp. 145-156 — demonstrates how the Framework Foresight method can be effectively used for exploring the future of a topic such as student needs.
"The future of student life: living" – Maria Romero (alumni), pp. 157-160 — points to shifting values relative to student health and wellbeing.
"The future of student life: learning" – Katie King (alumni), pp. 161-164 — suggests students will increasingly gravitate toward new learning models focused on experiential learning, personalized learning and non-traditional education systems if needed.
"The future of student life: working" – Jason Swanson (alumni), pp. 165-168 — touches on the critical uncertainty posed by AI, automation and general technological advances and how they will reshape work.
"The future of student life: playing" – Laura Schlehuber (alumni), pp. 169-172 — explores how purposeful play is spreading into virtual space.
"The future of student life: connecting" – James Breaux (alumni), pp.  173-176 — finds that students will become increasingly connected to their extended families, communities and AI, using technological interfaces to facilitate such connections.
"The future of student life: participating" – Johanne Schutte (alumni), pp. 177-180 — proposes hacking as a form of civic participation, points to ways in which students may become actively engaged in civic life, including through the use of hacking, and purports the need for strategic reconciliation between hackers and the hacked for the greater good of society.
"Nine emerging student needs" – Alexandra Whittington & Andy Hines, pp. 181-189 — indicates that nine emerging needs of future students could be used strategically by higher education institutions to guide and inform planning, as well as to generate innovative ideas for university offerings.
"Future of student housing" – Yasamina McBride (student), pp. 190-196 — argues that many on-campus housing facilities meet the need of today's students not those of future students increasingly attracted to technologically improving virtual classrooms, and recommends assessment of these trends by universities so as to make better choices for their campuses.
"Emerging student needs disrupting higher education", pp. 197-208 – Andy Hines — points to two potential disruptive shifts for higher education (a shift in the balance of power from institutions toward students, and a shift in the purpose of higher education away from job preparation), and considers practical and social implications of these shifts.
We would also like to acknowledge the review team: Peter Bishop, Terry Collins, Terry Grim, and April Koury. Thank you so much for making sure the articles were up to standard!
Kimberly Daniels
Photo source: https://www.luminafoundation.org/fosn-insights
Save
Save
Save