Sep
12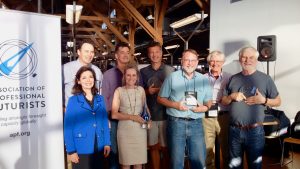 Attendance by some at this year's Association of Professional Futurists (APF) conference, held in Seattle, WA July 27-29, was delightfully nostalgic on one hand, and aspiringly forereaching on the other. Seattle was the original gathering location for the APF in 2002, the year it was founded, where this year's agenda of exploring human health and well-being in relation to the earth and its ability to sustain us also involved a passing of the baton from veteran members to the next generation of APF'ers commissioned with the task of taking the organization forward into its next 15-year study of and practice with respect to the emerging future. Others in attendance, perhaps for the first time or following a number of recurrent times, were collectively enthused at this APF conference being in many ways exceptional with respect to pre-gathering tech-driven events, conference sessions and speakers, a post-gathering hiking event as well as the comradery among professional futurists, educators and students. As in prior years, foresight professionals, educators, alumni and students in association with the University of Houston's (UH) Foresight Graduate program —"Houston Foresight"— were populous in number among conference attendees, and perhaps, most excited by the outcome of Friday evening's awards presentation in recognition of notable achievements in futures work.
In recognizing the futures work of professional futurists and those in academia, the APF strives to present models of excellence for emulation by foresight practitioners as well as for greater understanding by others. This year, the APF recognized people along three areas of achievement: APF Leadership, Most Significant Futures Work and outstanding student work—tier-awarded acknowledgement through the APF Student Recognition Program. The Houston Foresight community proudly accepted awards across each of the three areas of achievement.
APF Leadership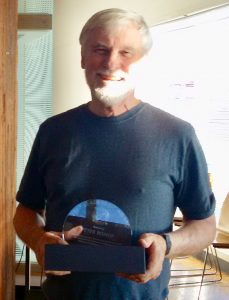 Most Significant Futures Work (among the dozen judges were UH Foresight Graduate Program Masters alum Jim Lee, Certificate alums Robin Jourdan, Liz Alexander and Dave Hamon, as well as Emeritus Professor Dr. Oliver Markley)
We salute Dr. Andy Hines as one of this year's award winners. Dr. Hines' submission falls under Category 1: Advance the methodology and practice of foresight and futures studies —
Let's Talk about Success: A Proposed Foresight Outcomes Framework for Organizational Futurists, Andy Hines Journal of Futures Studies, June 2016, 20(4):1-20. Introduces a framework to help organizational futurists and their clients get clear on intended outcomes and the achievement of success involving the integration of foresight into the organization."Significantly advances the foresight profession by helping to resolve one of the most vexing problems facing the professional futurist: "How to define and measure success at four inter-related levels (Practitioner, Project, Organizational, and Field), in each of three principal phases of futures work (Learning, Deciding and Acting)."
The Student Recognition Program (among the judges were UH  Foresight Graduate Program former Adjunct Professor Terry Grim, Masters alums Dr. Kay Strong and Dr. Verne Wheelright, and Certificate alum Dr. Liz Alexander).
Each of our three graduate student individual submissions won recognition for outstanding work by students in futures studies —
2ND Place: The Future of Quantified Self – Personal Sensors and Analytics, Tim Morgan, UH Foresight Graduate Program Masters candidate.
Honorable Mention: The Future of Poverty in Burkina Faso, Kimberly Daniels, UH Foresight Graduate Program Masters candidate.
Honorable Mention: The Future of Outdoor Recreation, Bo Roe, UH Foresight Graduate Certificate Program.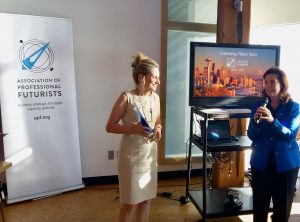 A surprise for all present at the awards ceremony physically and online was the announcement of a new category of recognition, The Frewen Award, in honor of our very own Dr. Cindy Frewen, UH Foresight Graduate Program alum and Adjunct Professor, for 7 years of dedicated service as APF Board Chair. Under Dr. Frewen's leadership, APF membership has grown to be 500 strong, and has expanded to include regional gatherings, professional development opportunities, the Compass, and online Futures Conference, and mentoring program and more.
Hats off to all of our Houston Foresight 2017 APF Award winners, and their strong contribution to the foresight field. And cheers to those in our foresight community already thinking about the 2018 APF Awards program and submissions for recognition of exceptional futures work.  —- Andy Hines and Kimberly Daniels
Save