Jun
6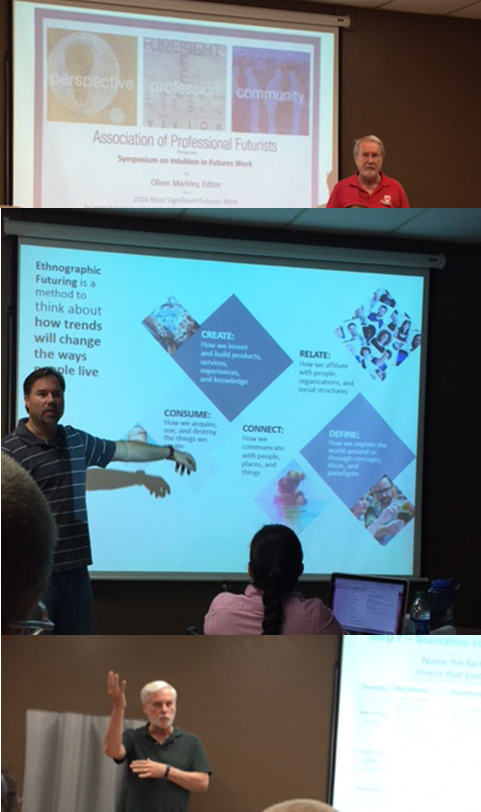 The annual Foresight Spring Gathering was held over the weekend of April 21-22 and was a blast! It was a terrific way for students, faculty, alumni and friends to get together, network, socialize, and learn.
On Friday night, a dinner was held at our old favorite, Goode's Taqueria…great tacos and margaritas. Then, the party moved on to Axelrad's Beer Garden, suggesting that we futurists are tapped into the scene – a big crowd, live bands, hammocks, fire breathing – a little bit of everything!
We regrouped on Saturday at the UH Cameron Building for a day of "Good Futures Work." The morning featured a demonstration/exercise on "Working with Systems Scenarios" by Christian Crews of Kalypso Foresight. Christian first developed this technique with fellow alum Sandy Burchsted, when he was a student in the program. He has been refining it with alum Laura Schlehuber at Kalypso. Small groups picked a topic and worked through the various steps, including developing third order impacts and looking at how the various impacts influenced one another. It was great to experience this technique firsthand – many of us had heard about it, but not tried it out.
After lunch, our sponsor at the US Forest Service, Dave Bengston, led the group through an Implications Wheel exercise. Before the gathering, Dave chose a topic from our current scanning and scenario project, got some input, and the participants generated implications at the workshop that we hope to use in the project.
The remainder of the afternoon featured a series of 15-minute sessions of tools, projects, and cases:
Eric Kingbsury described the Foresight Game concepts for youth in Tajikistan that he and fellow students, Mina McBride and Daniel Riveong, recently presented to UNICEF.
Professor Emeritus, Oliver Markley, shared some insight from his ongoing work on "Intuition in Foresight" for which he was recognized by the APF Most Significant Futures Work program.
Student, Mark Sackler, described his experience in putting together an awesome series of futures podcasts on his Seeking Delphi site.
Alum, Sean Daken, shared his experience on "Foresight & Entrepreneurship", based on his experience in launching startups since he graduated from the program.
Bo Roe, a student and member of the Forest project team, shared his experience in developing a custom approach to scanning source identification for the forest scanning team.
Alum, Lee Shupp, teaching at the CCA program, shared some cool project work that a team of his students put together this spring.
Katherine Prince and Jason Swanson, Certificate and Master's alums respectively, talked about how they have adapted the Framework Foresight approach in their project work at Knowledge Works.
Finally, Dr. Peter Bishop of Teach the Future, shared a new technique he is developing for combining uncertainties into a manageable number of scenarios.
After a stimulating day, we capped off the weekend with a pool party. One of these years, someone will actually go in the pool! The challenge has been issued!