Mar
13
Teach the Future and KnowledgeWorks are co-hosting a student foresight desig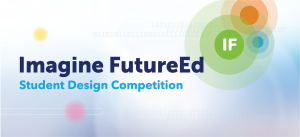 n competition through March 27. The competition is open to any U.S.-based, 13-18-year-old student interested in creating a scenario about the future of education with an optional artifact from the future (an illustration of an object or scene from a future world). See Competition details.
Katherine Prince, KnowledgeWorks Senior Director of Strategic Foresight, explain, "Youth participants can work on their own or with the support of an adult facilitator, who may be a teacher, an after-school program facilitator, a museum educator, a homeschooling guide, or anyone else who works with young people." She added, "KnowledgeWorks and our partner, Teach the Future, will supply five custom activities and supporting materials to guide the creation of submissions that are informed by changes on the horizon. The full set of activities is estimated to take approximately 2.5 hours. Participants can select from or modify them as needed or can take another approach to creating competition submissions."
This creative process can build important skills and engage students in a new way of thinking about themselves and their futures. In addition, student work will be eligible to be published by KnowledgeWorks, and winners will receive an iPad Air 2 or a $150 VISA gift card.
"We look forward to seeing many ways of imagining what #FutureEd might look like. Again, we encourage you to sign up to learn more and to spread the word about the competition to others!" Prince concluded. "Student voice is an important but underrepresented perspective on the future of learning. We hope that the Imagine FutureEd competition will help bring it to the fore." — Dave Ramirez
Save