Feb
10
A quick update on what's happening as begin the Spring 2017 semester!
The Fall Newsletter  is out.
Spring Gathering now April 21 and 22. We just updated the dates for our  Annual Spr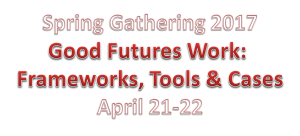 ing Gathering to April 21 and 22 (previous dates were on Easter Weekend, oops). The theme is "Good Futures Work." We are very excited to have alums Christian Crews and Laura Schlehuber of Kalypso Foresight sharing their "Systemic Scenarios" methodology with us in the morning. In the afternoon, we're going to do a bunch of smaller sessions (15–30 minutes). We have several student sessions lined up, and we'll also have Dave Bengston, our sponsor at the US Forest Service, joining us for module. Still time for you to propose an idea and grab a slot!  As a largely virtual program, we deliberately choose one event each year that you must be physically present to attend. It's a great chance to mix with alumni, students, faculty and friends of the program, and strengthen your ties to our foresight community.
Research Projects. One of the shifts that has been taking place in our program as we are now situated in a Tier 1 Research University is that we are expected to carry out research (and of course bring in some research dollars). So, if you'd like to work with a student team, and would like to help the program by helping us bring in some money, we would be super grateful. We just finished a project on "The Future of Residency and Foreigner Affairs in Dubai" with our partners the Future Foresight Foundation. I led a team with faculty member Alexandra Whittington as the project manager, and four students: Katie King, Eric Kingsbury, Maria Romero, and Mark Sackler. We are also pleased to continue working with our friends at the US Forest Service on horizon scanning and scenarios. We have a new project with certificate grad Clay Bunyard of Kimberly Clark, and we've just signed a training project with the ad agency Leo Burnett!
More students….and faculty appreciation. We've have 46 active students this Spring, making it 90 total this academic year (the most we've had since 1998 when we were still at Clear Lake).  It's great to have these healthy numbers, but I want to shout out some appreciation for our faculty how have to deal with a greater workload: Jim Breaux, Cindy Frewen, Terry Grim, Kaipo Lum, Wendy Schultz. Alexandra Whittington. Y'all work so hard….and we know it's for love and not the money! We all appreciate you so much! Andy Hines