Sep
4
Those who have been following our blog might be familiar with the Future Of Student Needs: 2025 and Beyond project. The Houston Foresight program recruited a team of students and alums to prepare a report which seeks to anticipate the needs of future students in order to increase college completion rates. After months of work, we are preparing to present the report to the Lumina Foundation later this month.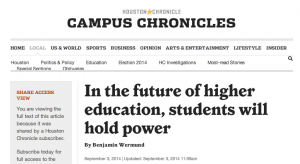 The Houston Chronicle recently sat down with Andy Hines to discuss the report and share a little bit about what we have learned about the future of higher education in the process. The future continues to look promising for those taking the traditional path to college in the year 2025, but they may not be the ones Universities are primarily catering to! To read the interview click here.
You can also learn more about the project or read a draft version of the report.
— Omar Sahi