Jan
11
When: Friday April 21 & Saturday April 22, 2017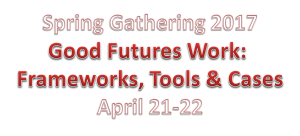 Where: UH Campus (and other fun spots)
Why: Learn, network, and have fun!
The topic and dates are set for our 7th Annual Spring Gathering of students, alums, faculty, prospects, and friends (and do feel free to bring a guest). It's a tradition that we do this weekend face-to-face, so that we can get to know one another better and also to provide our online colleagues a best time of year to visit.
We'll start Friday night at 5:00 pm at the Goode's Taqueria (4902 Kirby Drive; 713.520.9153) We'll enjoy a casual atmosphere for Mexican food and, in Dr. Bishop's view, the margaritas in town. We'll follow that up with drinks and maybe some hookah in the Mid-Town area.
On Saturday, we'll have a light breakfast at the either the Cameron Building or another on-campus venue from 8:30 to 9:00, and then dive into the day's festivities. Lunch will be at the venue. Around 5pm, we'll journey over to Dr. Hines' home at 714 E 9th St, Houston, TX 77007.
The main feature on Saturday will be to explore "good futures work." We'll explore frameworks, tools, and cases. We are still working on the agenda. We'd love to co-create the day, so please replay to me with your ideas and potential contributions to the day (ahines@uh.edu). Among the topics we might consider:
Frameworks
We use several frameworks in our program. Indeed, our core method of Framework Foresight evolved from integrating six key activities common to foresight projects. For instance, we might look at the new APF's new Competency Model. We might also explore the Outcomes Framework I put together for my dissertation and was published in the Journal of Futures Studies last year. What are the frameworks that you find useful in your work that you can share with the larger group?
Tools
What new tools are you using? Or what new tools might you want to hear about? Last year, for instance Wendy Schultz took us through a demo of Sensemaker. We have a few options to consider, but we would like more ideas on this.
Cases
What interesting projects have you worked on in the last few years that you'd be willing to share? We can share some of the program's recent client projects for the Foresight Service and Dubai's General Directorate for Residency and Foreigners Affair. But I'm sure our alum and community also has some interesting cases to share.
The types of questions we might consider in reviewing the cases:
How did you sell the project/get the order?
What was the team and how did you put it together?
What is about learning/deciding/acting?
Choice of methodology
Adjustments/tweaks/innovations
Client participating and response
Results: how used
If you're coming from out of town, it's probably easiest to stay at the University Hilton on campus, but some guests used have used AirBnB. So save the date and stay tuned for more details. Andy Hines